Fire Hose Hydrant Splitter from 2.5 reduces to 1.5 NH Thread hoses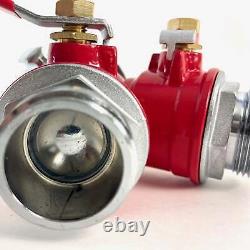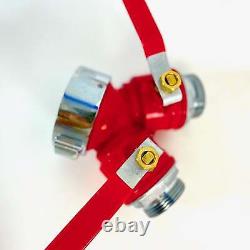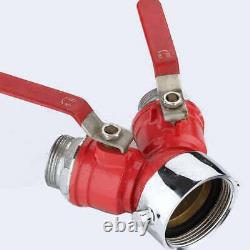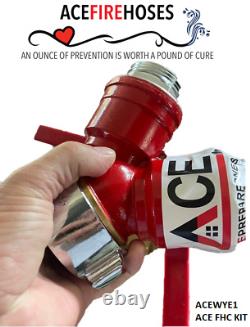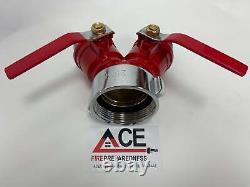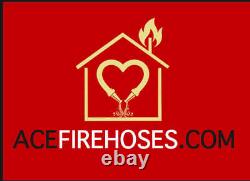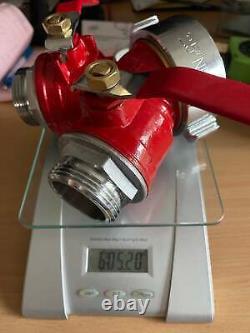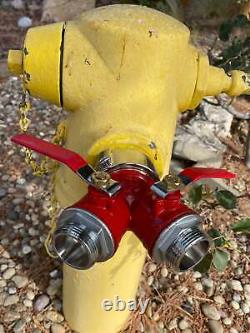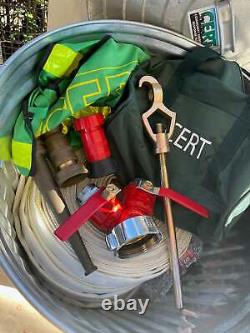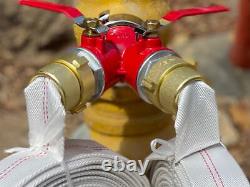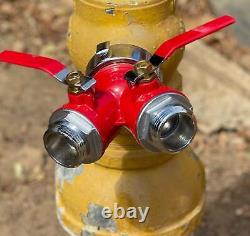 Brass Gated WYE Hydrant Splitter Valve 2.5" x 1.5" out HN - NST Thread. We at ACE FIRE Preparedness have designed and manufactured this one stop, easy to use first of its kind 75' Fire Hose and hydrant connector kit to store in your vehicle or homes. We serve Military, Police Departments. Fire Departments, FEMA, CERT and First Responders.
The Kit is easy to use. This is Professional Fire Fighting Equipment that is a must in todays changing climates!
Application Divides Single Flow to Double Flow. "An Ounce Of Prevention Is Worth A Pound Of Cure, " Ben Franklin. Inlet 2 1/2 female NST (NH) Swivel connects to fire hydrant. Outlet (2) 1-1/2 male NST (NH).
For use with water only. Brass and Chrome plated steel. If you live near a brush fire or forest fire corridor please read!
The garden hose is just not a good defense system, climate changes, you must develop a better fire preparedness plan of action. The Gated Wye Valve is needed to connect to a fire hydrant or water pump and out to two(2) 1 1/2 fire hoses. If the fire is coming your way with no fire department response, you must take action and extinguish the fire before it gets to your home.
The cost of wood makes it cost prohibitive to rebuild and you'll never get back your personal memories. We must be better prepared than we are now. Keep it in the trunk of your car, if you see fire starting you can help before the fire department arrives, if the fire department arrives there's only 1000 fireman per shift to protect 4 million people in Los Angeles.
If you keep a firearm to protect your family, why wouldn't you own professional fire fighting equipment to upgrade and plan? Material: cast iron, brass and chrome plated.
It's our mission to provide Professional fire fighting equipment for home use. To store your hoses and accessories we recommend in a metal container on your porch. Spraying water on your roof is useless roofs don't catch on fire. You are wasting water and water pressure.
Your car should be backed in the driveway, if the fire gets in the house leave. You must assume the fire department is not coming. Please watch the Netflix documentary called the Paradise Fire. Our mindset must be to help the fire department by being prepared. The predictions are this fire season 2021 will be worse than the last two years.
For more information and training videos please visit. Thank you stay safe, God bless and God bless America. Please watch this video on how to attach the valve to the fire hydrant.
The team at ACE FIRE Preparedness wishes you the best of health and happiness. Please join our Facebook ACEFHCKIT and Instagram, ace_fire_preparedness. Sherwin Ace Ross ACE Fire?? You have to assume the fire department is not coming.
For more information and training videos please visit is. Hydrant Fire Hose splitter Ball Valve, Wye Body Style, Inlet Type Female NH, Outlet Type Male NH x Male NH, Inlet Size 2-1/2 In.
Handle Type Lever, Handle Material Steel/Vinyl Grips, Body Material Brass, Ball Material Brass, Max. Pressure 200 psi CWP, Overall Length 6-5/16 In. Seat Material PTFE, Stem Material Brass, Valve Structure 2-Piece, Application Divides Single Flow to Double Flow. This item is in the category "Collectibles\Historical Memorabilia\Firefighting & Rescue\Hoses & Nozzles". The seller is "ace1heart" and is located in this country: US.
This item can be shipped to United States.